PAJ7620U2 based I2C gesture recognition sensor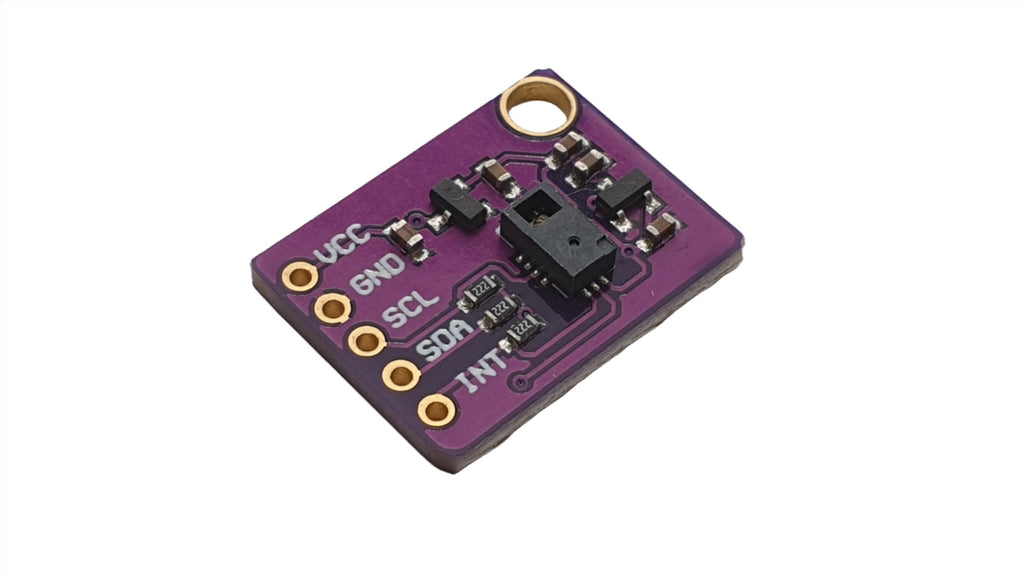 ---
The Gesture Recognition Sensor is equipped with a PAJ7620U2 which integrates gesture recognition with an universal I2C interface into a single chip.
It identifies 9 gestures, including moving up, moving down, moving to the left, moving to the right, moving forward, moving backwards, clockwise, circumference - counterclockwise, down, down.
The gesture information can be accessed via the I2C bus. The core chip of the  gesture recognition sensor module is PAJ7260U2, which is a body infrared identification IC that supports communication via the I2C protocol.

Features overview
• Typical supply voltage is 2.8V to 3.3V and I/O voltage is 1.8V~3.3V
• Nine gesture recognition (Up / Down / Left / Right / Push / Pull / CW / CCW / Wave)
• Gesture speed is 60°/s to 600°/s in Normal Mode and 60°/s to 1200°/s in Gaming Mode
• Ambient light immunity: < 100k Lux
• Built-in proximity detection
• Flexible power saving scheme
• I2C interface up to 400 kbit/s, Pull-up voltage from 1.8V to 3.3V
• Ambient light noise cancellation
Datasheet available for download after purchase - or send us a mail we can provide it to you!
Purchasing & Delivery
You may be liable for import duties, sales tax, or customs processing fees. It's your responsibility to ensure you're fully aware of the local requirements for importing goods from China to your location. We cannot offer any refunds due to unexpected charges applied locally. We are required to include a commercial invoice with all shipments.
EU SHIPMENTS JULY 1st 2021
Since July 1st, 2020 EU buyers are obliged to pay local VAT on all orders shipped. The previously VAT free value of up to €22 has been cancelled. Instead there is a new regulation for goods imported to the EU for values up to €150. (i.e. not subject to excise duties) Because ALLNET China is not able to pre-collect the related VAT on the checkout yet, you will be contacted directly when the parcel arrives in your country and asked to pay the outstanding amount. After that the parcel will be delivered to you like before. We work on a solution to make this more convenient for you and hope to present it to you soon. IMPORTANT NOTICE! If the requested payments from the EU tax authorities are not balanced, the parcels will be either destroyed or returned to us. In this case we unfortunately can not refund both shipment cost and product price. The return process creates high cost on administration, shipment and re-import which have to be covered.